Turn It Around: The Story of East Bay Punk explores Northern California's pivotal role in evolution of punk rock - the loud, intense and anti-authoritarian philosophy of music and politics that arose in the late 1970s. Early San Francisco Bay Area punk pioneers like Dead Kennedys, Avengers and Flipper as well as the Maximum Rocknroll fanzine helped take the punk underground global.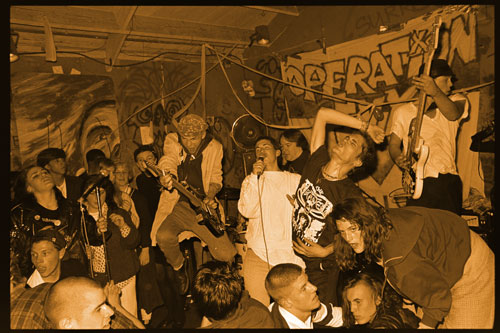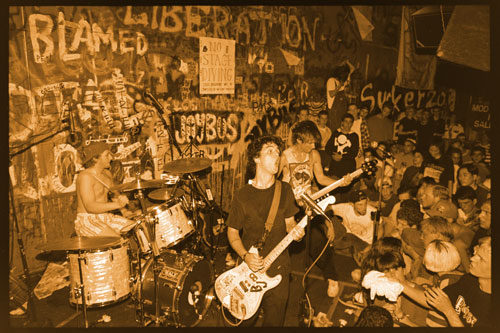 As the once-vibrant local scene became wrought with violence, corruption and racism, punks over the bridge in the East Bay responded by creating a fun and inclusive style of punk that also carried on the region's tradition of radical thought. Banding together around Berkeley's all- volunteer 924 Gilman Club, this diverse collective of misfits created a do-it-yourself, no-spectators' petri dish for art & music that changed the Bay Area punk scene… and the world at large.
Today, we know about some of the bands who emerged from this scene, like Green Day and Rancid, but their success is just the tip of the iceberg; the roots of this inspiring story go deep into the underground. Directed and produced by Corbett Redford, narrated by Iggy Pop and executive produced by Green Day, Turn It Around: The Story Of East Bay Punk is told by the people who were there.  The story of East Bay punk rock unfolds from its unlikely beginnings, continues through its struggles, and triumphs with its raucous power continuing to be influential today.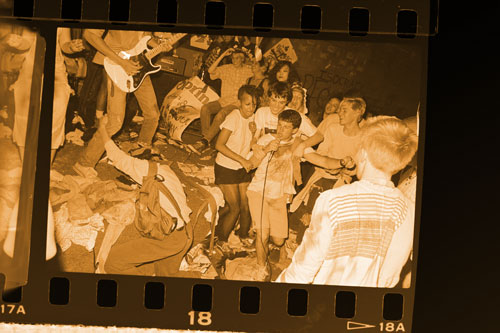 Produced & Directed by
Corbett Redford
Narrated by
Iggy Pop
Written by
Corbett Redford & Anthony Marchitiello
Cinematographer/Editor
Greg Schneider
Executive Producers
Green Day & Pat Magnarella

Turn It Around: The Story of East Bay Punk features a diverse spectrum of musicians and artists who have all been impacted by or participated in the California San Francisco Bay Area punk music scene of the 1970s, 1980s, and 1990s. During the production of our film, we conducted over 150 interviews around the United States and amassed over 500 hours of interview footage. Those participating in the documentary include past and current members of: 924 Gilman, Maximumrocknroll, Lookout Records, Green Day, Rancid, Neurosis, Operation Ivy, Crimpshrine, Yeastie Girlz, Stikky, Samiam, Jawbreaker, Isocracy, Kamala and the Karnivores, Beatnigs, NOFX, Primus, Metallica, Bikini Kill, Bad Religion, Soup, Sweet Baby, Special Forces, Deadly Reign, Christ On Parade, Corrupted Morals, Mr. T Experience, Victims Family, The Lookouts, Monsula, Cringer, Spitboy, Blatz, Filth, Econochrist, Fifteen, Pinhead Gunpowder, Tilt, Pansy Division, Dead Kennedys, Avengers, Fugazi, Flipper, 7 Seconds, Fang, Angry Samoans, Nuisance, Screeching Weasel, Engage, Dicks, Subhumans, The Tubes, Boo Hss Pfft, Verbal Abuse, The Vagrants, Schlong, The Gr'ups, The Tourettes, Pinhead Gunpowder, Tribe 8, Kwik Way, Social Unrest, White Trash Debutantes, Outpunk, DMR, Psycotic Pineapple, Black Fork, Sawhorse, The Skinflutes, The List, Sacrilege BC, No Dogs, Gag Order and more.
Clocking in at 158 minutes, this extensive documentary features archive footage and photos from Murray Bowles, Oddball Film + Video Archive, TARGETVIDEO77, Shayne Stacy, Wayne Vanderkuil, Cammie Toloui, Aaron Cometbus, Rhoda Rohnstock, John Cazden and hundreds more who documented the Bay Area scene of the 1970s, 1980s and 1990s.
Billie Joe Armstrong,
Mike Dirnt, & Tre Cool
Green Day
Tim Armstrong, Matt Freeman & Lars Fredricksen
Rancid
Dave Edwardson, Scott Kelly, & Noah Landis
Neurosis
Michael Franti
Spearhead, Beatnigs
Miranda July
Film Director, Author, Performer
Kevin "Noodles" Wasserman
Offspring
Kathleen Hanna
Bikini Kill, The Julie Ruin
Brett Gurewitz &
Jay Bentley
Bad Religion
Silas Howard
Tribe 8,
FILM AND TELEVISION DIRECTOR
Duff McKagan
Guns N' Roses
Adam Pfahler &
Chris Bauermeister
Jawbreaker
Jim Thiebaud
REAL Skateboards, Bones Brigade
Jello Biafra &
East Bay Ray
Dead Kennedys
Penelope Houston
Avengers
Ian Mackaye
Fugazi, Minor Threat
Ted Falconi &
Stephen DePace
Flipper
Winston Smith
Influential SF collage artist
Sammytown & Tom Flynn
Fang
Michelle Gonzales &
Adrienne Melanie Stone
SPITBOY
Prairie Prince, Roger Steen & Rick Anderson
The Tubes
Kamala Parks
Kamala And The Karnivores

As a kid from Contra Costa County in Northern California, there wasn't much exciting to do in our region. In order to visit any nearby bastions of culture, you had to navigate through a complex series of bus transfers and BART rides – either that or you had to ride your bike 10 miles or so down San Pablo Avenue to discover the world outside of the boring outer-suburbs of Berkeley, Oakland and San Francisco. Many of us from Contra Costa felt trapped in a monoculture of fast-food, identical homes and dead-end jobs. If you wanted to see something exciting, you had to create your own fun.
Hailing from the same county I grew up in, Green Day did just that, rocketing out of our hometown like a phoenix. They shined as an example of hope to every oddball creative kid – their story being the proof that if you put in the work, your art could take you anywhere. I was a freshman when Billie Joe and Mike were seniors at Pinole Valley High School – I looked up to them from the first moment I met them… and the crux here is that they, despite their eventual lofty station, always kindly supported and encouraged my musical and artistic endeavors.
In the mid-90s, I found a home performing and volunteering at Green Day's early stomping grounds, Berkeley's 924 Gilman punk music collective. It changed my life in many of the same ways it had changed Green Day's lives – through total immersion in the Gilman punk scene, I received a valuable political, social and cultural education. As a latchkey kid from the Contra Costa County sticks, I was sorely in need of the very-Berkeley lessons and ideals that the Gilman culture introduced into my soul. Gilman gave me the tools for how to be a better citizen of my community and in the world-at- large.
In 2013, out-of- the-blue, I got a message from my old friend Billie Joe of Green Day. He was on the search for some hard-to- find Green Day footage and thought that I might have known where to obtain it. I did know where to find it – along with about 20 other videos of early-era underground Green Day live shows. I gathered the footage and delivered it to Billie. He asked me if I knew someone who could direct a documentary about the early years of the Gilman scene from which Green Day had emerged, and I immediately said, "Yes. I can direct it!" I knew this scene and I knew this music, and I knew that I could pay them both the tribute they so richly deserved by stepping up and taking the helm of the documentary. And so, I said "yes" without hesitation, and right then and there I was given the opportunity by Green Day – I was chosen to direct and produce the documentary which became Turn It Around: The Story of East Bay Punk.
Assembling a small production crew of local punks and longtime Gilman stalwarts including Kamala Parks, Robert Eggplant, Tim Armstrong and Dave Mello, we set out to tell the story of our local East Bay punk history. Our production grew and grew outside of the original bubble we had anticipated working within.
We were led down hundreds of paths to excavate and preserve countless legendary stories and archives. At the end of our 3 years of production, we had filmed over 500 hours of interview footage, conducted over 150 interviews, traveled all over the country, amassed a collection of over 35,000 event flyers and archive photos, curated a footage library of over 500 vintage live shows and even managed to wrangle in and collaborate with the best narrator we could hope to work with – the Godfather of Punk, Iggy Pop. The ride this production has taken me on has been incredible. All gratitude to my hometown friends in Green Day for giving me the opportunity to be a part of something so historic, sprawling and epic. They made the excavation and preservation of this history possible - and that is an important and beautiful accomplishment.
I believe our film's ultimate focus is about the human need we all have to find a place to belong -- a place we feel safe to truly be ourselves. I feel much urgency for people to see what we have created in this documentary – which at its core is really a story about the road to the emergence of the non-profit music collective 924 Gilman in Berkeley, California. Safe community spaces like Gilman continuing to exist are going to be more important than ever in the days ahead. Outsiders of all stripes need a place to come together under the dark clouds of an often-oppressive world. This was the case then. This is still the case now. I hope the story of East Bay Punk can be another example of how things can be... in a world that continues to tell us most of the time only how things cannot be.
Corbett Redford